CSF GROUPS
Every night of the week at the CSF building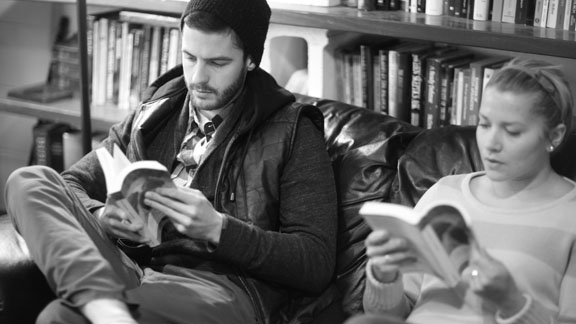 UK's big. One thing we want to do at CSF is help make college feel a little smaller. That's why we have CSF Groups. Dozens of small groups meet on campus each week to study the bible or a good book. Community service groups impact lives through picking up trash or serving a meal. Bible studies. Shift groups. Guys, girls, co-ed and community service groups. Check out the list below for a complete schedule of CSF groups or scroll to the bottom to sign up. Meet new people, shrink UK.
1. THE UNABORTED SOCRATES BY PETER KREEFT
TIME: Mondays at 3pm | LEADERS: Amir Kucharski & Stevie Barrera
This thought-provoking book imagines a conversation with Socrates on the issue of abortion. A great group to explore a heated issue.

2. ISAIAH
TIME: Mondays at 3:30pm | LEADERS: Steven Faddis & Kenzie Campbell
This prophetic Old Testament book looks to the future as it powerfully critiques the present.

3. THE ART OF MANLINESS
TIME: Mondays at 4pm | LEADERS: Austin Wofford & Sam Holmes
GUYS ONLY. Take it from the manliest men around: being a man is more than just driving a big truck. Explore the ins and outs of being a man.

4. ACCELERATED GUYS LEADERSHIP
TIME: Tuesdays at 11am | LEADERS: Matt Dampier & Garrett Fahrbach
GUYS ONLY. This is a call for juniors and seniors to step up into leadership. You don't have to be a CSF Leader to join. You do have to be a guy.

5. FIVE DOLLAR FAST PRAYER & FASTING
TIME: Tuesdays at 3pm | LEADERS: Ian Hall & Patrick Queenan
Gather during 3 o'clock prayer each Tuesday to pray for the people Five Dollar Fast helps AND talk about what it looks like to begin fasting.

6. HEBREWS
TIME: Tuesdays at 4pm | LEADERS: Callie Knuckles & Owen Worthing
One of the forgotten books of the New Testament, Hebrews is rich with theology, storytelling, and practical advice for living the Christian life.

7. RATIO CHRISTI
TIME: Tuesdays at 5:30pm | LEADER: Clint Field
Ratio Christi is a campus group that are close friends with CSF. This group will be focused on navigating conversations with those who aren't Christians, and giving suggestions for defending the faith with gentleness and respect.

8. MERE CHRISTIANITY C. S. LEWIS
TIME: Tuesdays at 8pm | LEADERS: Griffin Fulkerson & Carol Beth Madden
A must read for any Christian. C. S. Lewis' classic will both challenge you and inspire you.

9. PHILIPPIANS (WITH A WORLD CLASS SCHOLAR)
TIME: Wednesdays at 3pm | LEADERS: N. T. Wright (sort of) & Derek King
N. T. Wright is probably the top Bible scholar in the world (no joke). And he's co-leading this group... sort of. Watch his great videos. Read Philippians.

10. THE FOUR LOVES BY C. S. LEWIS
TIME: Wednesdays at 5:30pm | LEADERS: Suzanne Harper & Baileigh Sims
GIRLS ONLY. C. S. Lewis' renowned exploration of human relationships. We'll examine each of the "four loves" and figure out how we should live them out.

11. LIFE TOGETHER BY DEITRICH BONHOEFFER
TIME: Wednesdays at 6pm | LEADERS: Katlyn Davis & Joshua Feinn
Dietrich Bonhoeffer is best known for his plot to kill Hitler and being killed by Nazis, but before that he was a thoughtful Christian pastor who wrote this fantastic book on community.

12. THROUGH GATES OF SPLENDOR BY ELIZABETH ELIOT
TIME: Wednesdays at 7pm | LEADERS: Ross Ladenberger & Elizabeth Biggs
Elizabeth Eliot tells a remarkable story of grace and redemption, recounting her missionary interactions with an unreached tribe.
13. NEW TESTAMENT CLASS
TIME: Fridays at 2pm | LEADERS: Matt Dampier & Derek King
This ain't your ordinary CSF Group. It will require about a $40 investment and some outside reading. It's an in-depth study of the New Testament, exploring the themes, history and text of the most influential writings in history.
14. SENIOR GIRLS ONLY
TIME: Saturdays at 10am | LEADERS: Maddie Wofford & Pam Vernon
GIRLS ONLY. This is for the old girls: that's right, seniors. You're almost done with school! So join this group and talk about what life after college with Jesus looks like. Starts in February!
15. HOMEWORK HELP
TIME: Tuesday Evenings, Time TBA | LEADER: Abby Burke
Hang out every week at the public library to help tutor kids.

16. COMMUNITY DINNER
TIME: Tuesdays, 5:30-8pm | LEADER: Sidney Peard
Help prepare meals and care for homeless people in Lexington.

17. REFUGE CLINIC
TIME: Choose based on your schedule | LEADERS: Amir Kucharski
The Refuge Clinic was created to provide medical care for uninsured patients in and around Lexington. You can help make that possible. No medical training required!

18. 4KIDS
TIME: Choose based on your schedule | LEADER: Adam Waggener & Liz Moore
Serve kids at Morton Middle School at this local after-school tutoring program.

19. AMACHI
TIME: Choose based on your schedule | LEADER: You!
Be a role model and mentor for a child or teen affected by parental incarceration.
1 & 2 TIMOTHY
Nearly two millennia ago Paul wrote to his disciple Timothy as he tried to follow God in Ephesus. His advice remains incredibly relevant on the college campus, even 2,000 years later! Root through some of Paul's mail and explore what it looks like to follow Jesus at UK.
GUYS' GROUPS
TIME
1. Mondays, 7:30pm
2. Mondays, 7:30pm
3. Tuesdays, 4:30pm
4. Tuesdays, 6pm
5. Thursdays, 6pm

GIRLS' GROUPS
TIME
6. Tuesdays, 7pm
7. Tuesdays, 7pm
8. Wednesdays, 5pm
9. Wednesdays, 6pm
10. Wednesdays, 7pm

CO-ED GROUPS
TIME
11. Mondays, 7:30pm
12. Tuesdays, 6:30pm
13. Tuesdays, 6pm
14. Tuesdays, 6pm
15. Wednesdays, 5pm
16. Wednesdays, 6pm
.
LEADERS
Tre Hoff, Ben Taylor, Drew Ellis
Caleb Canter, Steven Barrera, David Hidrogo
Ben Pumpelly, Chris Bull, Joe Umanzormarin
Jake Bryant, Zach Motes, Max Wilder
Justin Pemberton, Taylor Robinson, Bryce Maikranz

.
LEADERS
Lauren Mongonia, Abby Eades
Alli Butler, Erin Disponnett
Kelsey Wohlgemuth, Nicole Allender, Keirstin Feinhaur
Natalie Hopkins, Kelsey Michael, Lindsey Craddock
Kate Carman, Alicia Russell, Julia Little

.
LEADERS
Josh Musalia, Claire Panter, Emily Klemm
Tater Cunningham, Alison Honerkamp, Caroline Butler
Nathan Faulls, Kira Pauley, David Brandy
Lily Murphy, Seth Stewart, Langdon Johnson
Ashley Nantz, Emily Hannan
Jalil Malik, Hannah Vaughn, Lexus McCormick
GUYS' GROUPS
1 . TIME: Mondays, 7:30pm | LEADERS: Tre Hoff, Ben Taylor, Steven Faddis
2. TIME: Mondays, 7:30pm | LEADERS: Caleb Canter, Steven Barrera, David Hidrogo
3. TIME: Tuesdays, 4:30pm | LEADERS: Jake Bryant, Chase Collins, Zach Motes
4. TIME: Tuesdays, 4:30pm | LEADERS: Ben Pumpelly, Chris Bull, Joe Umanzormarin
5. TIME: Tuesdays, 7pm | LEADERS: Justin Pemberton, Taylor Robinson, Josh Feinn
GIRLS' GROUPS
6. TIME: Tuesdays, 7pm | LEADERS: Lauren Mongonia, Abby Eades
7. TIME: Tuesdays, 7pm | LEADERS: Ally Butler, Erin Disponnett
8. TIME: Wednesdays, 5pm | LEADERS: Kelsey Wohlgemuth, Nicole Allender, Keirstin Feinhaur
9. TIME: Wednesdays, 6pm | LEADERS: Natalie Hopkins, Kelsey Michael, Lindsey Craddock
10. TIME: Wednesdays, 7pm | LEADERS: Kate Carman, Alicia Russell, Julia Little
CO-ED GROUPS
11. TIME: Tuesdays, 7pm | LEADERS: Josh Musalia, Claire Panter, Emily Klemm
12. TIME: Tuesdays, 8pm | LEADERS: Lily Murphy, Seth Stewart, Langdon Johnson
13. TIME: Tuesdays, 4pm | LEADERS: Tater Cunningham, Alison Honerkamp, Caroline Butler
14. TIME: Wednesdays, 5pm | LEADERS: Ashley Nantz, Emily Hannan
15. TIME: Wednesdays, 6pm | LEADERS: Jalil Malik, Hannah Vaughn, Lexus McCormick
16. TIME: Wednesdays, 6pm | LEADERS: Nathan Faulls, Kira Pauley, David Brandy
17. TIME: Wednesdays, 7pm | LEADERS: Max Wilder, Katie Hamlin, Bryce Maikranz