SHIFT (for freshmen)
EVERY MONDAY, 6PM AT THE CSF BUILDING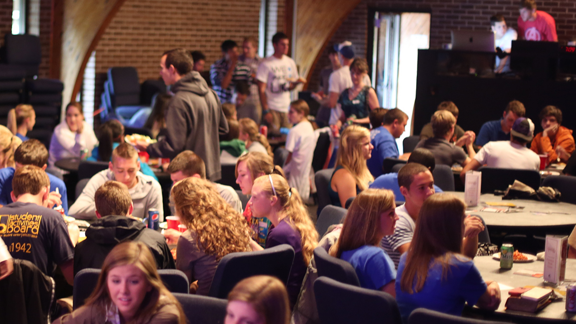 At CSF we believe your first year at college is one of the most important times in your life. It's a time of new surroundings. New experiences. New friends. It's a time when you begin to set many of the patterns and habits that will shape the rest of your life.
"Shift" is a weekly time for freshmen to find their niche. Each week we discuss important issues facing college students. Gather. Eat a free meal. Connect. And figure out where life with God fits into life at college.
Shift groups are a great way to hang out with other students and talk about a book together. There  are days and times all throughout the week so you can find a group that fits your schedule. SIGN UP ON THE CSF GROUPS PAGE.
SHIFT GROUP BOOKS
THIS CHANGES EVERYTHING: LESSONS FROM JAMES ($12)
Join author Ben Stuart as he unfolds the teachings of James, who went from skeptic to believer. Just as James came face-to-face with the death and resurrection of Jesus Christ, he wants the same for you whether you're wondering what being a Christian is all about or you've been following Christ for years. What James knew then still holds true today. When we encounter Jesus, He will change everything.

RENOVATION OF THE HEART ($16)
Renovation of the Heart lays a biblical foundation for understanding what best-selling author Dallas Willard calls the "transformation of the spirit"—a divine process that "brings every element in our being, working from inside out, into harmony with the will of God."

UNDAUNTED ($13)
Christine Caine offers life-transforming insights about how not only to overcome the challenges, wrong turns, and often painful circumstances we all experience, but also to actually grow from those experiences and be equipped and empowered to help others. Using her own dramatic life story, Caine shows how God rescued her from a life where she was unnamed, unwanted, and unqualified.